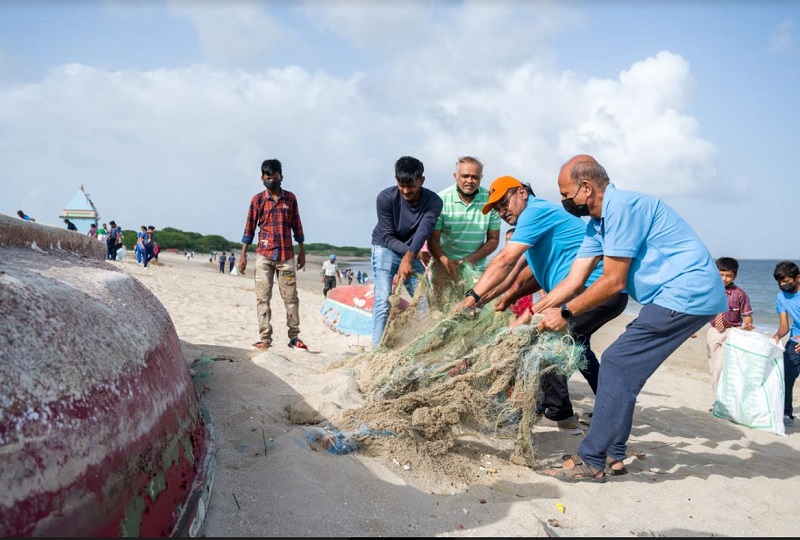 Tata Chemicals through its 'Save Whale Shark Campaign' has saved over 850 of these endangered species till date in the Saurashtra region along the coastline of Gujarat.
  This initiative of Tata Chemicals, Wildlife Trust of India (WTI) and the Gujarat Forest Department has garnered extensive support from the fishing communities of Gujarat resulting in a decline in cases of poaching from around 600 in 1999-2000 to zero in 2021.
  For effective implementation of this project, migration research studies of Whale Sharks from Gujarat Waters have been conducted. So far eight satellite transmitters on rescued Whale Sharks have been deployed. The results were analysed in collaboration with the Australian Institute of Marine Science (AIMS) and published in the International Journal of Frontiers in Marine Science.
  About 18 Genetic study samples have been collected and analysed from rescued Whale Sharks in Gujarat waters.
  Talking about this initiative, Tata Chemicals Head HR and CSR R Nanda said, "Corporates through CSR can do a lot for our environment. This campaign is a reflection of Tata Chemicals' commitment to environmental conservation. Designed to make the community a stakeholder in our endeavor to save this Whale Shark, this initiative has ushered a significant behavioral change."
  The concerted efforts of the company and the partners have resulted in the whale shark becoming the second wildlife pride in Gujarat, after the Asiatic lions and seven coastal cities in Gujarat, including a non-coastal city, Ahmedabad, have adopted the whale shark as their city mascot.
  The Whale Shark conservation project has sensitized over 50,000 fishers and 100,000 coastal students through campaign awareness drive to inculcate the message of conservation.
  The project has been represented in the International Whale Shark conferences held globally, including the ones in Doha in 2016 and Australia in 2019. It has won the India Biodiversity Award by UNDP for the conservation of the whale shark, under the co-management category in 2014; the Green Governance Award by BNHS in 2005.