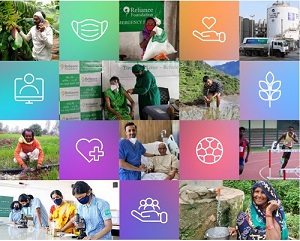 Reliance Industries spent Rs 813 crore on corporate social responsibility (CSR) activities during the 2021-22 financial year, with maximum funds for promoting health and medical relief initiatives.
Of which, about Rs 222 crore was spent on the Mission Covid Suraksha. About Rs 114 crore was spent on preventive and public healthcare initiatives in Maharasthra, and Rs 109 crore on medical relief in Gujarat and Maharasthra. It also spent Rs 142 crore on promotion of education in Maharasthra.
"During the year under review, the company spent Rs 813 crore (around 2.21 percent of the average net profits of last three financial years) on CSR activities," the company said in its annual report.
Reliance Industries said the three core commitments of 'Scale, Impact and Sustainability' formed the bed-rock of the company's philosophy on CSR initiatives.
CSR initiatives are being focused in the areas of Rural Transformation, Health, Education, Environment, Arts, Heritage & Culture and Disaster Response.
The company supported national initiatives like Gram Uday Se Bharat Uday Abhiyan, Unnat Bharat Abhiyan, Swachh Bharat Abhiyan, Poshan Abhiyan, Jal Shakti Abhiyan, Sabki Yojana Sabka Vikas, Skill India Mission, Digital India and Doubling Farmers' Income.
The company further said it adopted a multi-pronged approach to address the COVID-19 pandemic. The company supported initiatives on healthcare, medical oxygen supply, emergency meal distribution, supply of free fuel, masks and awareness creation.
Over 8.5 crore meals provided under Mission Anna Sewa; over 1.4 crore masks were distributed under Mission COVID-19 Suraksha and free fuel support was provided to over 70,000 emergency vehicles.
Medical oxygen production was ramped up from zero to 11 percent of India's treatment needs for meeting the requirement of over one lakh patients every day. This was supplied free to several state governments.
Over the past decade, the company has focused on several CSR programs. The CSR initiatives under the leadership of Nita M. Ambani, Founder and Chairperson, Reliance Foundation, have touched the lives of more than 5.75 crore people covering more than 50,600 villages and several urban locations across India.
The CSR initiatives of the company have won several awards including Golden Peacock Award for Corporate Social Responsibility 2021, CII DX Award 2021 under 'Innovation in CSR through Digital Transformation,' Award for Corporate Leadership in ESG (Environmental, Social & Governance) from The CSR Journal- Excellence Awards 2021, World Summit Awards 2021 for providing digital solutions through its Machli App and the Best Vaccine Programme by a Private Hospital at the India Today Healthgiri awards among others.