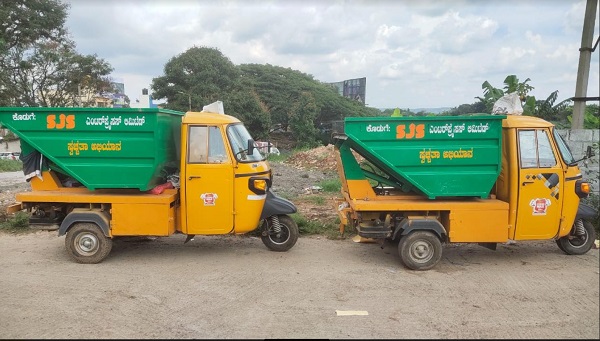 Garbage disposal is major concern for most urban and rural areas in India. In many parts of the country, garbage is simply dumped in landfills, which is an unhygienic and unsustainable practice. The inappropriate technique of dumping garbage waste can cause irreversible damage to humans and the environment.
  To address this major concern, SJS Enterprises took up the initiative of helping Agara Panchayat Jurisdiction by providing door-to-door garbage collection across seven villages -- BM Kaval Village, Tataguni, Vaderahalli, Agara Village, Dodapalya Village, Lakshmipura and Byresandra village -- in Bengaluru.
  A fleet of three vehicles were provided for collecting both wet and dry garbage from October 1. These trucks have a load capacity of 600-650 kg. Each truck can carry 0.50 tonnes of garbage every day and handed it over to the Bruhat Bengaluru Mahanagara Palike team, which will further segregate and dispose of the garbage in an eco-friendly manner, Agara Panchayat President Venkatesh said.
  SJS Enterprises Managing Director K A Joseph said, "SJS team took up this step after witnessing the plight of the villagers as they were facing major health problems due to poor waste management. Currently, the villagers are relieved as now they can live a better life with less risk of health problems."